Artist News:
Eric received New York State Assembly's Citation
on September 22, 2016
---
About the Artist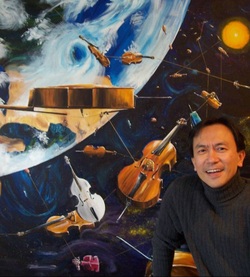 Having spent 23 years in Goldman Sachs & Co, Eric quit his job as a senior technology manager right after his 50th birthday. "Life can be short and I want to bring out hundreds of artworks that are still in my head. I can no longer wait to fulfill my childhood dream of creating highest quality artworks that touch people's hearts," he said*.

Eric grew up in Taiwan. He received the art training from regular school programs. However, being aspired to become an artist, day and night, he spent most of his youth absorbing history and techniques of art creation and classical music composition from all sources he could find.

Prompted by the economic realty in Taiwan at the time, his life took a turn. After obtaining degrees from National Taiwan University and New York University, he started a long and successful career in Wall Street. Nevertheless, his desire of creating art grew stronger year after year. He committed to painting daily with any time he could find despite his extremely demanding corporate responsibilities. Eric then became a full time artist in 2007.

Ever since, his artwork have been exhibited in National Taiwan Museum of Fine Arts in Taiwan, Queens Museum, & Flushing Town Hall Gallery in New York, New Britain Museum of American Arts, Mattatuck Museum, Westport Arts Center, Silvermine Guild Gallery, Carriage Barn Arts Center, Bruce Kershner Gallery (all in CT), and many other local venues and communities in Connecticut and New York.

In addition to his passionately creating arts that explore the significance of existences and manifest his empathy of panhuman loneliness, desperation, love, connections, and hope, he is also very active in organizations that help the connections among individual artists and between artists and communities.
---------------------------------------------
* "When I was a teenager, every time I felt desperate or severely depressed, I turned to Beethoven's music for encouragement and inspiration. Had he not published his music, which witnessed his suffering, struggle, and thriving, this little boy living 200 years later and 10,000 miles away would not have gotten encouraged and inspired to live on. And I want to do the same with my arts," he said. Eric always quoted from Ludwig van Beethoven's Heiligenstadt Testament, Oct, 1802: "...and again I heard nothing. Such incidents drove me almost to despair; a little more of that and I would have ended my life - it was only my art that held me back. Ah, it seemed to me impossible to leave the world until I had brought forth all that I felt was within me. So I endured this wretched existence..."
---
Select Exhibitions
Juried Group Exhibition: New Britain Museum of American Art, "Nor'Easter 2018", New Britain, CT 2018
Juried Group Exhibition: Maritime Gallery, "A Reverence for Nature", Norwalk, CT 2018
Juried Group Exhibition, Carriage Barn Arts Center, "SPECTRUM, Contemporary Art Show," New Canaan, CT, 2018
Juried Group Exhibition, Mattatuck Museum, "MixMasters 2018," Waterbury, CT, 2018
Juried Group Exhibition, Maritime Gallery: "Worth A Thousand Words," Norwalk, CT, 2018

Solo Exhibition, Green's Farms Church Gallery: "Eden Then & Now," Westport, CT, 2017
Juried Group Exhibition, Maritime Gallery: "Memories," Norwalk, CT, 2017
Juried Group Exhibition, Carriage Barn Arts Center: New Canaan, CT, 2017 (Betty Barker Award)
Juried Selective Exhibition, Westport Arts Center: "2017 Select Exhibition," Westport, CT 2017
Juried Group Exhibition, Farmington Libraries Gallery: "Abstract Art," Farmington, CT, 2017
​​Juried Group Exhibition, Carriage Barn Arts Center: "SPECTRUM," New Canaan, CT, 2017
Juried Group Exhibition, Maritime Gallery: "Chromatic," Norwalk, CT, 2017
​
Juried Group Exhibition, Westport Arts Center "I am More -- anti-bullying" juried show, Westport, CT, 2016
Juried Group Exhibition, Ridgefield Guild of Artists annual show, Ridgefield, CT, 2016
Two-Person Exhibition, Bruce Kershner Gallery, Fairfield Library, Fairfield, CT, 2016
Group Exhibition, Silvermine Guild of Artists New Members' Exhibition, New Canaan, CT, 2016

Invitational Group Exhibition, "Explore the Harmony with the Nature," Flushing Town Hall Gallery, Queens, NY, 2015
Group Exhibition, Pequot Library, Southport, CT, 2015
Solo Exhibition, Weston Senior Center, Weston, CT, 2015
Juried Group Exhibition, Beechwood Arts, "Pairing," 2015
Group Exhibition, "Art for the Love of It," St. Philip Artists Guild, Norwalk, CT, 2015
Solo Exhibition, Weston Library, Weston, CT, 2015
Group (invited) "Pop-Up" Exhibits, Westport Arts Center, Westport, CT, 2015
Exhibition by Taiwanese American Arts Council: "Artist Recognition," Queens Museum, Queens, New York, 2014
Group Show "Beechwood Open 2014," Westport, CT, 2014
"Arts About Town," Westport, CT, 2014
Solo Show, "Are We Born Connected?" Green's Farms Church Gallery, Westport, CT, 2014;
Beechwood Arts: "Ying Yang", Westport, CT, 2013
National Art Exhibition, National Taiwan Museum of Fine Arts, Taiwan, 2012
SOLOs, Westport Arts Center, Westport, CT, 2011
Juried Group Exhibition, Westport Arts Center, "Summer," Westport, CT, 2010